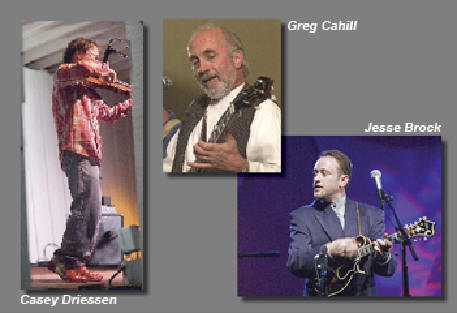 Welcome to the web site of Darwin Davidson, photographer and host of Bronzewound, the bluegrass radio show on WERU Community Radio.
I attend a few bluegrass festivals throughout the year, and the one that got me started on my bluegrass journey is MerleFest. My first one was in 1990, so this year, MerleFest 2015, will be my 25th anniversary year. I haven't been to all of them over the years, but you can be sure I will be at this one.
In celebration of MerleFest 2015, during the month of March, I will be doing a live on-air interview each week on Bronzewound (Thursdays, between 8 and 10 PM) with one of the performers who will be appearing at MerleFest 2015. In addition I will be giving away a four-day pass to MerleFest 2015 every week during March. All you need do to be in the drawing for that pass is send me an email during Bronzewound with your name and snail mail address. My email is listed below. I will do the drawing at the end of the show each week.
I will post the specifics of each week's Bronzewound on my Facebook page, so please check the link below to see who my guest will be. https://www.facebook.com/darwin.davidson.1
One of the festivals I attended last year was the International Bluegrass Music Association's World of Bluegrass. Five days of bluegrass, just about twenty-four hours a day. IBMA WOB has been in held in Raleigh, North Carolina now for the past two years. The following link will take you to a page with numerous links to various events that took place during IBMA WOB 2014.
As you can see, photography of bluegrass musicians is an important part of my life. You can see more photographs of these musicians or bands by following their links on the Bluegrass Photographs page.
My website contains a number of areas that reflect my various interests. Click on any of the links that you see to your left, and you'll be directed to the appropriate web pages.
Darwin K. Davidson
35 Plumb Point Road, Deer Isle, ME 04627
207-348-7767
e-mail: darwin@darwindavidson.com